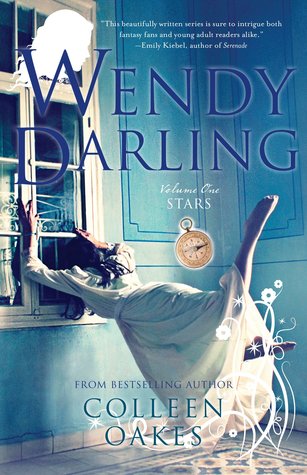 Summary
Wendy Darling has a perfectly agreeable life with her parents and brothers in wealthy London, as well as a budding romance with Booth, the neighborhood bookseller's son. But while their parents are at a ball, the charmingly beautiful Peter Pan comes to the Darling children's nursery and—dazzled by this flying boy with god-like powers—they follow him out of the window and straight on to morning, to Neverland, a intoxicating island of feral freedom.
As time passes in Neverland, Wendy realizes that this Lost Boy's paradise of turquoise seas, mermaids, and pirates holds terrible secrets rooted in blood and greed. As Peter's grasp on her heart tightens, she struggles to remember where she came from—and begins to suspect that this island of dreams, and the boy who desires her—have the potential to transform into an everlasting nightmare.
Review
This book started off very good in the beginning. We have Wendy Darling, living in early 1900's London with her brothers John and Michael and her loving busy parents and dog Nana. Wendy has a good life, but feels in competition for love for her father with John. She has a love interest in the bookkeeper's son Booth, but they can't be together because she's more established than Booth is. And just as she's about to sneak off to meet him, in swoops the magical, mysterious Peter Pan. With his dashing good looks, winning personality and ability to fly, he takes the Darling children on an enchanting quest to Neverland, the place where there's no rules, no parents, just fun and flying!
But what starts off as a fun, joyous adventure turns into a dark, twisted, ominous place where your home memories start to slip away. And Wendy has to find a way to get her and her brothers back home.
Peter was charming in the beginning, but as soon as he turned dark, he freaked me out. He knew that the Darling kids' memories were starting to slip away, but since he had a horrible home life, he wanted to keep them in Neverland forever against Wendy's will. Also the Lost Boys looking at the both of them like they were their parents saddened me, for some reason. Where did Peter Pan find all 200 of them? Did he steal them from their homes too? Did they have families?
And I found John to be such a pain in the ass!! He didn't respect Wendy at all as an older sister, let alone anyone older than him, with the exception of Peter and Abbott. And Abbott didn't even like him either.
And I found it convienient that Wendy found her long-lost memories as she and Peter.........almost did the big
IT.
You know what IT I'm talking about. ;) And then she remembers Booth and her love for him, grabs Michael and runs for her life. But she had to have known that it wasn't going to be that easy to leave Neverland without Peter, right?
Tink's character was interesting too. Like the original fairytale, she was jealous of Wendy and Peter, but most of her hatred came from losing her family years ago. And when Wendy went to her for help to get back home, she started to help her, but pulled back because she'd felt like she didn't deserve it. Typical Tink.
Colleen Oakes' writing was very poetic and formal, but it took my forever to finish because I felt like the pacing was too slow. She focused too much on the fun of Neverland than how Wendy would get off the island. Then when Wendy finally gets off with Michael, the book is over! Dang cliffhangers!
It'll be interesting to see what Hook and the others will do with Wendy and Michael in book 2. Will he kill them or use them as bait to lure in Peter? But if they do, Wendy will have to find another way to escape Peter and go home again. Or will Peter just leave them there to starve?
So many questions, and we don't even know when book 2 is coming out yet!
Thank you to NetGalley for an ARC copy in exchange for an honest review.
Have you read Wendy Darling by Colleen Oakes? Leave your thoughts on the novel below in the comments.
Thanks for reading! :) ♥