Hosted by
brokeandbookish.com
,
Top Ten Tuesday
is an original feature/weekly meme created because they are particularly fond of lists. This week's theme is the top ten 2016 debut novel's I'm excited for.
I couldn't find 10 books, so I'm only listing 5. :P
5. Bookishly Ever After by Isabel Bandeira
This book sounds interesting, like a girl who lives in the fantasy land and tries to incorporate it into her real life.
Summary:
In a perfect world, sixteen-year-old Phoebe Martins' life would be a book. Preferably a YA novel with magic and a hot paranormal love interest. Unfortunately, her life probably wouldn't even qualify for a quiet contemporary. But when Phoebe finds out that Dev, the hottest guy in the clarinet section, might actually have a crush on her, she turns to her favorite books for advice. Phoebe overhauls her personality to become as awesome as her favorite heroines and win Dev's heart. But if her plan fails, can she go back to her happy world of fictional boys after falling for the real thing?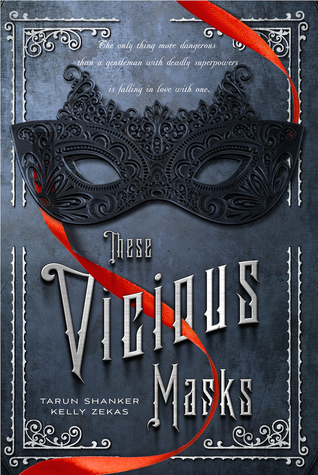 4. These Vicious Masks by Tarun Shanker and Kelly Zekas
This story sounds like witch-hunt, which is something I'm fascinated about. Kind of like how Outlander did it, but with more of an edge!
Summary:
Jane Austen meets X-­Men in this gripping and adventure-­filled paranormal romance set in Victorian London.
England, 1882. Evelyn is bored with society and its expectations. So when her beloved sister, Rose, mysteriously vanishes, she ignores her parents and travels to London to find her, accompanied by the dashing Mr. Kent. But they're not the only ones looking for Rose. The reclusive, young gentleman Sebastian Braddock is also searching for her, claiming that both sisters have special healing powers. Evelyn is convinced that Sebastian must be mad, until she discovers that his strange tales of extraordinary people are true—and that her sister is in graver danger than she feared.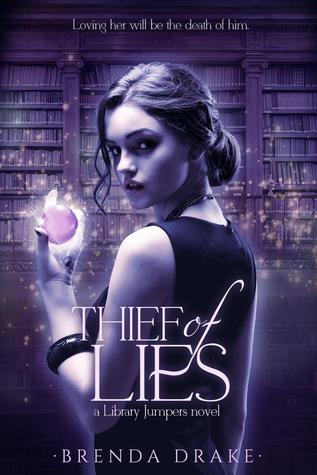 3. Thief of Lies by Brenda Drake
It has people jumping into libraries on a quest for freedom! Cool!
Summary:
Gia Kearns would rather fight with boys than kiss them. That is, until Arik, a leather clad hottie in the Boston Athenaeum, suddenly disappears. While examining the book of world libraries he abandoned, Gia unwittingly speaks the key that sucks her and her friends into a photograph and transports them into a Paris library, where Arik and his Sentinels—magical knights charged with protecting humans from the creatures traveling across the gateway books—rescue them from a demonic hound.
Jumping into some of the world's most beautiful libraries would be a dream come true for Gia, if she weren't busy resisting her heart or dodging an exiled wizard seeking revenge on both the Mystik and human worlds. Add a French flirt obsessed with Arik and a fling with a young wizard, and Gia must choose between her heart and her head, between Arik's world and her own, before both are destroyed.
2. Hold Still by Lynn Steger Strong
It sounds like a Sarah Dessen novel, but sadder... :(
Summary:
Evoking finely wrought characters reminiscent of those by Claire Messud or Elizabeth Strout, debut author Lynn Steger Strong traces the anatomy of a mistake and the weight of culpability. When Maya Taylor, an English professor with a tendency to hide in her books, sends her daughter to Florida to look after a friend's child, she does so with the best of intentions; it's a chance for Ellie, twenty and spiraling, to rebuild her life. But Ellie fears she'll only disappoint again, and in the sprawling hours of one humid afternoon, she makes a mistake that she can't take back. In two separate timelines—before and after the catastrophe—Maya and Ellie must try to repair their fractured relationship and find a way to transcend not only their differences but also their more troubling similarities. Heralding the arrival of a profoundly moving new talent, Hold Still explores the depths and limits of a mother's love.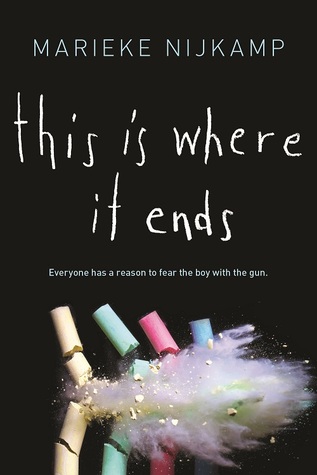 1. This is Where It Ends by Marieke Nijkamp
This has a few mixed reviews on Goodreads already, but it's understandable because school shootings are still a very sensitive topic to write about. But I'm still interested to see what happens.
Summary:
10:00 a.m.
The principal of Opportunity, Alabama's high school finishes her speech, welcoming the entire student body to a new semester and encouraging them to excel and achieve.
10:02 a.m.
The students get up to leave the auditorium for their next class.
10:03
The auditorium doors won't open.
10:05
Someone starts shooting.
Told over the span of 54 harrowing minutes from four different perspectives, terror reigns as one student's calculated revenge turns into the ultimate game of survival.
What books are you excited for in 2016? Leave comments below.
Click the Twitter birdie to share!
Subscribe to my blog for more!
Follow me on:
Thanks for reading! :) ♥