Hosted by
brokeandbookish.com
, Top Ten Tuesday is an original feature/weekly meme created because they are particularly fond of lists. This week's list showcases the top ten books I've recently added to my TBR list.
10. My Life on the Road by Gloria Steinem
Gloria Steinem—writer, activist, organizer, and one of the most inspiring leaders in the world—now tells a story she has never told before, a candid account of how her early years led her to live an on-the-road kind of life, traveling, listening to people, learning, and creating change. She reveals the story of her own growth in tandem with the growth of an ongoing movement for equality. This is the story at the heart of My Life on the Road.
I mostly chose this book because I joined Emma Watson's Goodreads book club, so I hope to get into this book to discuss it with other fans soon.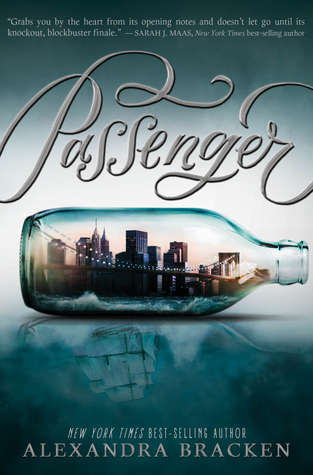 9. Passenger by Alexandra Bracken
passage, n.
i. A brief section of music composed of a series of notes and flourishes.
ii. A journey by water; a voyage.
iii. The transition from one place to another, across space and time.
In one devastating night, violin prodigy Etta Spencer loses everything she knows and loves. Thrust into an unfamiliar world by a stranger with a dangerous agenda, Etta is certain of only one thing: she has traveled not just miles but years from home. And she's inherited a legacy she knows nothing about from a family whose existence she's never heard of. Until now.
Nicholas Carter is content with his life at sea, free from the Ironwoods—a powerful family in the colonies—and the servitude he's known at their hands. But with the arrival of an unusual passenger on his ship comes the insistent pull of the past that he can't escape and the family that won't let him go so easily. Now the Ironwoods are searching for a stolen object of untold value, one they believe only Etta, Nicholas' passenger, can find. In order to protect her, he must ensure she brings it back to them— whether she wants to or not.
Together, Etta and Nicholas embark on a perilous journey across centuries and continents, piecing together clues left behind by the traveler who will do anything to keep the object out of the Ironwoods' grasp. But as they get closer to the truth of their search, and the deadly game the Ironwoods are play­ing, treacherous forces threaten to sep­arate Etta not only from Nicholas but from her path home . . . forever
I've seen almost every Booktuber, book blogger and so on review this book. I've heard some good things about it, so I'm really interested to get to read it, at least for January.
8. Life in Motion: An Unlikely Ballerina by Misty Copeland
"Picture a ballerina in a tutu and toe shoes. What does she look like?"
As the only African American soloist dancing with the prestigious American Ballet Theatre, Misty Copeland has made history. But when she first placed her hands on the barre at an after-school community center, no one expected the undersized, anxious thirteen-year-old to become a ground-breaking ballerina.
When she discovered ballet, Misty was living in a shabby motel room, struggling with her five siblings for a place to sleep on the floor. A true prodigy, she was dancing en pointe within three months of taking her first dance class and performing professionally in just over a year: a feat unheard of for any classical dancer. But when Misty became caught between the control and comfort she found in the world of ballet and the harsh realities of her own life (culminating in a highly publicized custody battle), she had to choose to embrace both her identity and her dreams, and find the courage to be one of a kind.
With an insider's unique point of view, Misty opens a window into the life of a professional ballerina who lives life center stage: from behind the scenes at her first auditions to her triumphant roles in some of the most iconic ballets. But in this beautifully written memoir, she also delves deeper to reveal the desire and drive that made her dreams reality.
Life in Motion is a story of passion and grace for anyone who has dared to dream of a different life.
My friend Angela went to see Misty on stage in New York last month, and she absolutely loved it! She said she had the best time, and she'd definitely go again. I've been a new fan of Misty for awhile and have yet to see a show. I hope that reading this autobio will help me get into the mind of the first African American principal dancer of the American Ballet Theatre!
7. A Proper Young Lady by Lianne Simon
An M/I/F Sweet Romance.
A woman with the complete form of Androgen Insensitivity Syndrome might never discover that she has testes in her abdomen rather than ovaries and uterus. Danièle knows, and she grieves that she can never have her own children. She has a partial form of AIS that left her with ambiguous genitals, a steady stream of doctors and psychologists, and parents determined to see her happy as a girl.
After Danièle's best friend and childhood crush agrees to have a baby for her, Danièle learns that the clinic can extract sperm from her own gonadal biopsies, and she becomes the father of Melanie's baby herself.
Ethan adores the graceful young woman named Danièle, while Melanie imagines a life with the father of her child. Danièle? She's happy with her intersex body—somewhere between princess and little boy. But in a black and white world, she must choose—once and for all—who she will be. And whom she will love.
The summary was so intriguing enough, so I'm definitely excited to read this one soon. I also did a
book tour for this book last year
, which Lianne was very appreciative of.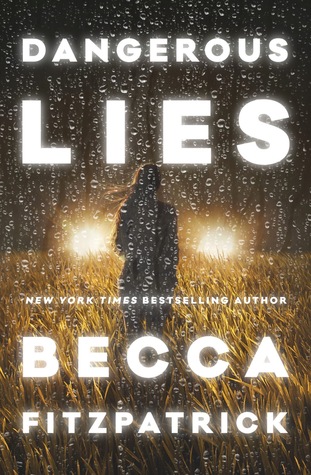 6. Dangerous Lies by Becca Fitzpatrick
A teen is forced to make a fresh start after witnessing a violent crime—but love and danger find her anyway in this novel from Becca Fitzpatrick, the New York Times bestselling author of the Hush, Hush saga.
Stella Gordon is not her real name. Thunder Basin, Nebraska, is not her real home. This is not her real life.
After witnessing a lethal crime, Stella Gordon is sent to the middle of nowhere for her own safety before she testifies against the man she saw kill her mother's drug dealer.
But Stella was about to start her senior year with the boyfriend she loves. How can she be pulled away from the only life she knows and expected to start a new one in Nebraska? Stella chafes at her protection and is rude to everyone she meets. She's not planning on staying long, so why be friendly? Then she meets Chet Falconer and it becomes harder to keep her guard up, even as her guilt about having to lie to him grows.
As Stella starts to feel safer, the real threat to her life increases—because her enemies are actually closer than she thinks…
I liked Becca's
Vampire Academy
books, so I hope this book is good too. Her last book
Black Ice
I've heard was pretty bad, but I'm still hoping lol.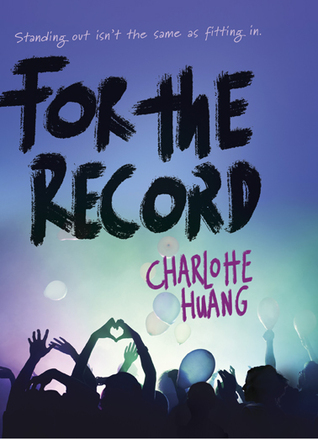 5. For the Record by Charlotte Huang
If Almost Famous were a YA novel... a raw, honest debut celebrating music, friendship, romance, and life on the road.
Chelsea thought she knew what being a rock star was like... until she became one. After losing a TV talent show, she slid back into small-town anonymity. But one phone call changed everything
Now she's the lead singer of the band Melbourne, performing in sold-out clubs every night and living on a bus with three gorgeous and talented guys. The bummer is that the band barely tolerates her. And when teen heartthrob Lucas Rivers take an interest in her, Chelsea is suddenly famous, bringing Melbourne to the next level—not that they're happy about that. Her feelings for Beckett, Melbourne's bassist, are making life even more complicated.
Chelsea only has the summer tour to make the band—and their fans—love her. If she doesn't, she'll be back in Michigan for senior year, dying a slow death. The paparazzi, the haters, the grueling schedule... Chelsea believed she could handle it. But what if she can't?
This looks interesting, very light-hearted and full of music, which I love. I love a good behind the scenes music scene-type of book or story. This should be a good time, amongst all of the heavy drama I'll be reading.
4. The X Factor: Confessions of a Naive Fashion Model by Ivan Sivec
Confessions of a naive fashion model. It takes three mistakes to be swallowed up and spat out by the fashion industry. You trust the wrong people. You think you know everything there is to know about life. You take drugs. Maja started off as a regular 17-year-old high-school kid, fighting her inner insecurities while dreaming to become an actress like Marilyn Monroe. At a party her boyfriend Klemen introduces her to a renowned modelling agent. He sees a special X Factor hidden insight her. And a great business opportunity for himself... Fast forward a few weeks later. Maja's charm and talent land her a modelling contract in the trendy and exciting fashion capital of Milan. She's completely enchanted and determined to make it in the fashion world. But things don't turn out the way she had planned. Exhausting long photo shoots, stressful fashion shows, strict dieting and wild parties start taking their toll on her soon enough. In desperate search for help Maja reaches out to her agent and other false friends from the fashion industry that emotionally and physically exploit her to the point where 'Maja the Great' is merely a shadow of her former self. She starts battling drug addiction that ends up in a tragic event. Maja has been finally swallowed up and spit out by the fashion industry with its endless traps. What price will the girl with the X Factor have to pay for her naivety? The young adult novel The X Factor by the bestselling Slovenian author Ivan Sivec is based on a true story and takes the reader on a frightening journey into the world of drug addiction among teenager fashion models."
I did a
blog tour for this book
, and Ivan saw it and loved it! But other than that, the summary looks really deep. I don't know anything about the modelling industry, but by this synopsis, it looks like Maja has been through a lot enough for Ivan to write about it.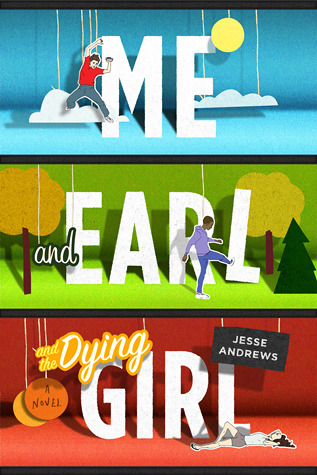 3. Me, Earl and the Dying Girl by Jesse Andrews
Greg Gaines is the last master of high school espionage, able to disappear at will into any social environment. He has only one friend, Earl, and together they spend their time making movies, their own incomprehensible versions of Coppola and Herzog cult classics.
Until Greg's mother forces him to rekindle his childhood friendship with Rachel.
Rachel has been diagnosed with leukemia—-cue extreme adolescent awkwardness—-but a parental mandate has been issued and must be obeyed. When Rachel stops treatment, Greg and Earl decide the thing to do is to make a film for her, which turns into the Worst Film Ever Made and becomes a turning point in each of their lives.
And all at once Greg must abandon invisibility and stand in the spotlight.
This was a movie last year, and I'd heard it was a good, heartwarming film, overall. I hope to both read the book and see the movie soon.
2. Beautiful Bastard by Christina Lauren
An ambitious intern. A perfectionist executive. And a whole lot of name calling.
Whip-smart, hardworking, and on her way to an MBA, Chloe Mills has only one problem: her boss, Bennett Ryan. He's exacting, blunt, inconsiderate—and completely irresistible. A Beautiful Bastard.
Bennett has returned to Chicago from France to take a vital role in his family's massive media business. He never expected that the assistant who'd been helping him from abroad was the gorgeous, innocently provocative—completely infuriating—creature he now has to see every day. Despite the rumors, he's never been one for a workplace hookup. But Chloe's so tempting he's willing to bend the rules—or outright smash them—if it means he can have her. All over the office.
As their appetites for one another increase to a breaking point, Bennett and Chloe must decide exactly what they're willing to lose in order to win each other.
Originally only available online as The Office by tby789—and garnering over 2 million reads on fanfiction sites—Beautiful Bastard has been extensively updated for re-release.
This was a Twilight fanfiction back in the day, just like
50 Shades of Grey,
and I'm kinda scared to read this. Only because I'm afraid it'll be like 50SOG which I thought was terrible. But I've heard this fanfic and book were both good, if not better than 50SOG so maybe, possibly, I'll check it out... lol
1. Hope: Indigo Ballet Series #2 by Grier Cooper
Perfection. Beauty. Pain. For Indigo Stevens there's no such thing as weakness or privacy at the famed New York School of Ballet where every movement is scrutinized and judged. Indigo hopes she'll be chosen for the company, but her ballet teachers aren't talking and their silence is confusing.
When Indigo is singled out for a coveted solo she feels her dreams are finally within reach, until she discovers she's dancing with Felipe Gonzalez, the school's smolderingly hot rising star. In the days that follow, Indigo questions everything she thought was true and finds herself making surprising choices, including the decision to take control of her own future. Will she create the life she wants or lose everything?
I read some of the first book,
Wish,
but I haven't finished it yet. I hope that since the sequel is finally coming out, it will give me the insight to finish the first novel.
See the rest of my TBR list on Goodreads here.
What books did you add on your list? Let me know in the comments below!
Subscribe to my blog for more!