What are you currently reading?
Passenger by Alexandra Bracken
. Everybody and their mama has read this book, and now I finally get to read it! It's good so far, but since I'm not that much of a pirates fan, it's taking me forever to get through. I have to listen to music in order to get through a chapter.
Passage, n.
i. A brief section of music composed of a series of notes and flourishes.
ii. A journey by water; a voyage.
iii. The transition from one place to another, across space and time.
In one devastating night, violin prodigy Etta Spencer loses everything she knows and loves. Thrust into an unfamiliar world by a stranger with a dangerous agenda, Etta is certain of only one thing: she has traveled not just miles but years from home. And she's inherited a legacy she knows nothing about from a family whose existence she's never heard of. Until now.
Nicholas Carter is content with his life at sea, free from the Ironwoods—a powerful family in the colonies—and the servitude he's known at their hands. But with the arrival of an unusual passenger on his ship comes the insistent pull of the past that he can't escape and the family that won't let him go so easily. Now the Ironwoods are searching for a stolen object of untold value, one they believe only Etta, Nicholas' passenger, can find. In order to protect her, he must ensure she brings it back to them—whether she wants to or not.
Together, Etta and Nicholas embark on a perilous journey across centuries and continents, piecing together clues left behind by the traveler who will do anything to keep the object out of the Ironwoods' grasp. But as they get closer to the truth of their search, and the deadly game the Ironwoods are playing, treacherous forces threaten to separate Etta not only from Nicholas but from her path home... forever.
What did you recently finish reading?
How to Be Cool by Annie Carr
. Read my review
here!
That book was so cute and sad and cheery and brave!
Ethan will never be as cool as his twin brother Alex. Alex is a star football player and president of the senior class, while Ethan was born with cerebral palsy and needs crutches to walk.
Laura will never be as cool as her perfect older sister Nikki. Nikki is everything Laura isn't—confident and gorgeous… until one night when Nikki is brutally raped and hospitalized, and Laura finds comfort in her new friend Ethan.
Together, Ethan and Laura realize maybe you don't need to be cool to be happy. Or to fall in love.
And then a revelation about the attack shatters everything…
What do you think you'll read next?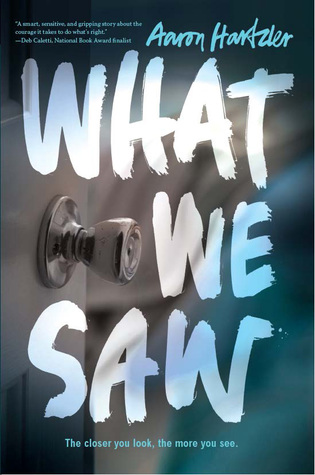 What We Saw by Aaron Hartzler
. Though I've been told that it has a heavy subject matter of rape and consent and other tough, critical subjects, so this will be a hard read this month.
Kate Weston can piece together most of the bash at John Doone's house: shots with Stacey Stallard, Ben Cody taking her keys and getting her home early—the feeling that maybe he's becoming more than just the guy she's known since they were kids.
But when a picture of Stacey passed out over Deacon Mills's shoulder appears online the next morning, Kate suspects she doesn't have all the details. When Stacey levels charges against four of Kate's classmates, the whole town erupts into controversy. Facts that can't be ignored begin to surface, and every answer Kate finds leads back to the same question: Where was Ben when a terrible crime was committed?
This story—inspired by real events—from debut novelist Aaron Hartzler takes an unflinching look at silence as a form of complicity. It's a book about the high stakes of speaking up, and the razor thin line between guilt and innocence that so often gets blurred, one hundred and forty characters at a time.
What are your book choices for this week? Leave comments below.
Subscribe to my blog for more!