Hey guys! This is a new feature I joined from
Goodreads' Top 5 Wednesdays
, a weekly book group about our top five favorite things in the middle of the week.
Created by Lainey from
GingerReadsLainey
and now hosted by Samantha from
ThoughtsonTomes
, this week's entry describes the top 5 books added to my wishlist. I had to narrow it down to 5 because my TBR has gotten mighty long!
5. Eclipse the Flame by Ingrid Seymour
Finally the sequel to Ignite the Shadows is coming next month!! I'm so excited!! I can't wait to read more of Marci's story.
4. This is Me by C.E. Wilson
I'm doing a book tour for this novel soon, so be on the lookout for that. But in the meantime, I can't wait to hear more about the thought of loving robot intelligence in a romantic way.
3. Fake Boobs by Ryan Ringbloom
Ryan Ringbloom sent me this book (and her other latest
Hooker Heels)
as a gift for talking so much about her first book,
Books, Blogs and Reality,
on Instagram
.
So it's only suitable that I return the favor and check out more of her other books. I shouldn't have read some of Fake Boobs' reviews because now I can't stop crying!
2. Talking as Fast as I Can:
From Gilmore Girls to Gilmore Girls, and Everything in Between
by Lauren Graham
Another book "written" by a celebrity, but I'm such a huge fan of Gilmore Girls, that I had to add this to my wishlist. I can't wait to read more about the behind-the-scenes of the show, plus Lauren's life in between.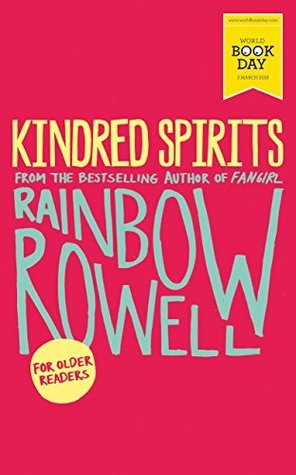 1. Kindred Spirits by Rainbow Rowell
I've only heard of Rainbow from all of the other booktubers and bloggers who have read her books, and her from her amazing Tweets. I've never read her books, though I've really wanted to. I got this book from Nicole at
BlackBeakBooks
' giveaway last month, and I can't wait to read it. Thanks again, Nicole!
What's your T5W list this week? Leave comments below.
Subscribe to my blog for more!
Follow me on:
Thanks for reading! :) ♥