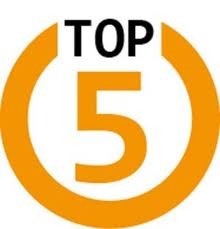 Hey guys! This is a new feature I joined from
Goodreads' Top 5 Wednesdays
, a weekly book group about our top five favorite things in the middle of the week.
Created by Lainey from
GingerReadsLainey
and now hosted by Samantha from
ThoughtsonTomes
, this week's entry describes the top 5 books I'd want as family members.
September 7: Characters You'd Want as Family
-- You can say this in a broad way or be specific (i.e. _______ would be a cool aunt, ______would be a great older brother, etc.)
5. Emmett Cullen from Twilight Saga (brother)
4. Fred and George Weasley from Harry Potter (brothers)
3. Dumbledore from Harry Potter (grandfather)
2. Edward Cullen from Twilight Saga (husband)
1. Luna Lovegood from Harry Potter (cousin/younger sister)
Who are some characters you'd want as family? Leave comments below.
Subscribe to my blog for more!
Follow me on:
Thanks for reading! :) ♥