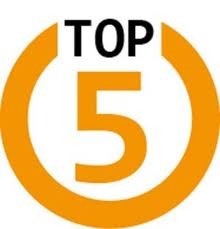 Hey guys! This is a new feature I joined from
Goodreads' Top 5 Wednesdays
, a weekly book group about our top five favorite things in the middle of the week.
Created by Lainey from
GingerReadsLainey
and now hosted by Samantha from
ThoughtsonTomes
, this week's entry describes the top 5 book covers that have nothing to do with the actual story.
October 12th: Inaccurate Book Covers
--Those books that have nothing to do with the story, or the cover model doesn't look anything like the actual main character, or it's a really cheesy cover for a great read!
5. How to Be Cool by Annie Carr
This book is so odd and misplaced for a plot about cerebral palsy, high school, first love, insecurities, and living up to your sibling's shadow.
4. Where She Went by Gayle Forman
Mia is barely in this sequel to If I Stay, and the book is in Adam's POV, so what was the point of having her on the book cover? :/
3. Vampire Academy (old covers) by Richelle Mead
When these covers first came out, I thought they were going to be like those old-school Harlequin novels LOL. These covers were so overdramatic and dark!
I only listed three because those are the only ones I could come up with. I even went up to the T5W group page and couldn't find anymore covers of books I've actually read. :/
What book covers do you think are inaccurate? Leave comments below!
Subscribe to my blog for more!
Follow me on:
Thanks for reading! :) ♥