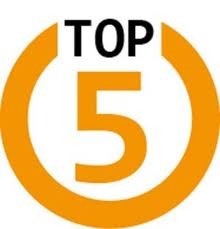 Note: I wasn't going to do a post today, but then I thought that it may be good to take my mind off and do something for myself for a change. Not that I don't always do these posts for myself, but today felt like I (and you guys, too) needed the distraction. At least for five minutes. So let's go!
Hey guys! This is a new feature I joined from
Goodreads' Top 5 Wednesdays
, a weekly book group about our top five favorite things in the middle of the week.
Created by Lainey from
GingerReadsLainey
and now hosted by Samantha from
ThoughtsonTomes
, this week's entry describes the 5 characters I used to love but don't anymore:
These are the characters who you used to adore, but now you don't. Maybe they changed a lot. Maybe you outgrew them. Maybe your outlook changed and now you can't stand them. Maybe you don't even hate them, you just are neutral about them when you used to run a fan blog about them.
4. Edward and Bella - Twilight Saga
I run
another fansite for Paramore, Robert Pattinson and Kristen Stewart
, all from Twilight for different reasons. But mostly, while I still love Edward and Bella from the series, they'll always have a special place in my heart, I've grown very neutral about them. In fact, they're not as perfect and crystal clear as the TwiHards make them out to be. Or very likable. But it's ok, because no character is perfect. I still like them and accept them for who they are. I still write fanfics about them. I still squeal whenever a new Twilight event happens in their honor. I love them, but I'm not
in love
with them so much anymore, especially now that the series is way over.
3. Jacob Black - Twilight Saga
I might as well add in Jacob, too because when everyone (Team Jacob) was on board for Bella to be with him, I was waiting for her to get the hell away from him. He went from being the sweet best friend to manipulative, cocky, angry kid who was so mad at the world. And he had the nerve to imprint on Bella's daughter when Leah was right there for him all along. UGH. Disgust.
2. Harry Potter
Same thing with Harry Potter. I
loved
in in the books, even more in the movies. But as I got older, I realized how whiney and kinda ungrateful he was. And I saw the movies first before I read the books, so when I read them, I was sorta in denial of Harry's overall character. So again, I love Harry, but I've fallen out of love with him.
1. Peeta Mellark - The Hunger Games
When I first read the books, I felt sorry for Peeta. He had little to no chance of winning the Games, and the only thing he was good at was baking bread and lifting heavy pounds of flour. Katniss and Gale both had to keep saving Peeta because he couldn't save himself. He was kind of a wuss in the movies, too. But that's no fault to Josh Hutcherson, the actor who played him. That's more of a script issue. But anyway, I still grew out of him.
What are some characters you've grown out of? Leave comments below.
So like I said before, I'm mostly doing this post to take my mind off of the election mess that is our country. It was harder than I'd thought it would be lol! Not because I was sad, but because I couldn't find many characters I was over, anymore. But I hope this brought a smile to your face.
If you're feeling down, take care of yourself. Turn off the news. Turn off social media. Rest your mind. Love you guys! ♥