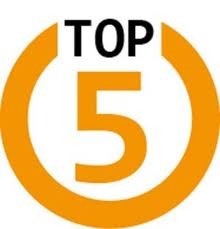 Hey guys! This is a new feature I joined from
Goodreads' Top 5 Wednesdays
, a weekly book group about our top five favorite things in the middle of the week.
These are those books you meant to read in 2016 or 2015 or 2014 and never got around to. Those books that have been sitting on your TBR for a while, and you really want to get to. These aren't upcoming 2017 releases; these are older books that need your love too!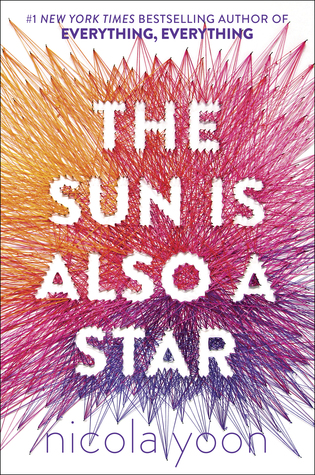 5. The Sun is Also a Star
by Nicola Yoon
I've been wanting to read this book for awhile, since everybody is reading it, I want to too!!
Natasha: I'm a girl who believes in science and facts. Not fate. Not destiny. Or dreams that will never come true. I'm definitely not the kind of girl who meets a cute boy on a crowded New York City street and falls in love with him. Not when my family is twelve hours away from being deported to Jamaica. Falling in love with him won't be my story.
Daniel: I've always been the good son, the good student, living up to my parents' high expectations. Never the poet. Or the dreamer. But when I see her, I forget about all that. Something about Natasha makes me think that fate has something much more extraordinary in store—for both of us.
The Universe: Every moment in our lives has brought us to this single moment. A million futures lie before us. Which one will come true?
4. Shadow and Bone
by Leigh Bardugo
Surrounded by enemies, the once-great nation of Ravka has been torn in two by the Shadow Fold, a swath of near impenetrable darkness crawling with monsters who feast on human flesh. Now its fate may rest on the shoulders of one lonely refugee.
Alina Starkov has never been good at anything. But when her regiment is attacked on the Fold and her best friend is brutally injured, Alina reveals a dormant power that saves his life—a power that could be the key to setting her war-ravaged country free. Wrenched from everything she knows, Alina is whisked away to the royal court to be trained as a member of the Grisha, the magical elite led by the mysterious Darkling.
Yet nothing in this lavish world is what it seems. With darkness looming and an entire kingdom depending on her untamed power, Alina will have to confront the secrets of the Grisha . . . and the secrets of her heart.
Shadow and Bone is the first installment in Leigh Bardugo's Grisha Trilogy.
3. An Ember in the Ashes
by Sabaa Tahir
Laia is a slave. Elias is a soldier. Neither is free.
Under the Martial Empire, defiance is met with death. Those who do not vow their blood and bodies to the Emperor risk the execution of their loved ones and the destruction of all they hold dear.
It is in this brutal world, inspired by ancient Rome, that Laia lives with her grandparents and older brother. The family ekes out an existence in the Empire's impoverished backstreets. They do not challenge the Empire. They've seen what happens to those who do.
But when Laia's brother is arrested for treason, Laia is forced to make a decision. In exchange for help from rebels who promise to rescue her brother, she will risk her life to spy for them from within the Empire's greatest military academy.
There, Laia meets Elias, the school's finest soldier—and secretly, its most unwilling. Elias wants only to be free of the tyranny he's being trained to enforce. He and Laia will soon realize that their destinies are intertwined—and that their choices will change the fate of the Empire itself.
2. Eclipse the Flame
by Ingrid Seymour
I still can't believe I haven't read the sequel to Ignite the Shadows yet!! Although I liked the first book, I didn't love it, but I was still interested in the story and what happens next. So I hope to get to this in 2017 soon.
In the new world of The Takeover nothing and no one will be safe. Marci must choose: love or vengeance.
One night she secretly follows her lover to a club. To her horror she discovers those closest to her, mingling freely with parasitic creatures which have secretly possessed human minds. A bloody ambush follows, leaving Marci a shadow of her former self.
Seattle is ravaged by a string of mysterious attacks. Ignite, the only resistance group, is disintegrating. As the world catches fire, Marci struggles to control the buzzing spectres in her own head.
Her hardest battle is between the forces of good and evil within herself. For Marci must fight. She was meant to burn.
1. Duplicity
by Kristina M. Sanchez
I've been wanting to read this for awhile. I've been friends with and following Kris' fanfiction works for years. I even have all of her originals, but I've never had the chance to read them. Now I feel like Duplicity has been calling my name for awhile now, so I hope to get to it within the next year.
In Lilith Callicotte's profession, being able to indulge in a little fantasy was a plus. Not much that came out of her pretty little mouth was real, but then again, what did her rich, playboy clientele care about truth? Lilith made lying more than an art – it was her life. But as lies often go, it only took one client asking too many questions for everything to unravel.
So those are my top 5 books I'd love to read in 2017. I'd love to know your choices in the comments below!
Click to subscribe for more!
Follow me on:
Twitter | Facebook | Goodreads | Bloglovin' | Instagram
Click to share on Twitter!
Thanks for reading! :) ♥