Hosted by Jamie, Jana and Lauren of
BrokeandBookish.com
, Top Ten Tuesdays is a weekly book meme that presents top ten lists on Tuesdays that promotes favorite bookish themes.
This week's theme:
December 20: Ten Books I Wouldn't Mind Santa Leaving Under My Tree (or non-book bookworm items)
~oOoOoOo~
10. Fangirl
by Rainbow Rowell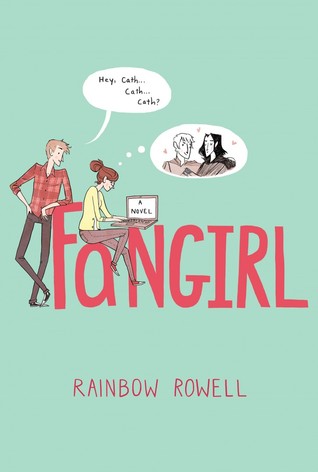 From the author of the New York Times bestseller Eleanor & Park.
A coming-of-age tale of fan fiction, family and first love.
Cath is a Simon Snow fan.
Okay, the whole world is a Simon Snow fan...
But for Cath, being a fan is her life—and she's really good at it. She and her twin sister, Wren, ensconced themselves in the Simon Snow series when they were just kids; it's what got them through their mother leaving.
Reading. Rereading. Hanging out in Simon Snow forums, writing Simon Snow fan fiction, dressing up like the characters for every movie premiere.
Cath's sister has mostly grown away from fandom, but Cath can't let go. She doesn't want to.
Now that they're going to college, Wren has told Cath she doesn't want to be roommates. Cath is on her own, completely outside of her comfort zone. She's got a surly roommate with a charming, always-around boyfriend, a fiction-writing professor who thinks fan fiction is the end of the civilized world, a handsome classmate who only wants to talk about words... And she can't stop worrying about her dad, who's loving and fragile and has never really been alone.
For Cath, the question is: Can she do this?
Can she make it without Wren holding her hand? Is she ready to start living her own life? Writing her own stories?
And does she even want to move on if it means leaving Simon Snow behind?
"Touching and utterly real." — Publisher's Weekly
9. To All the Boys I've Loved Before
by Jenny Han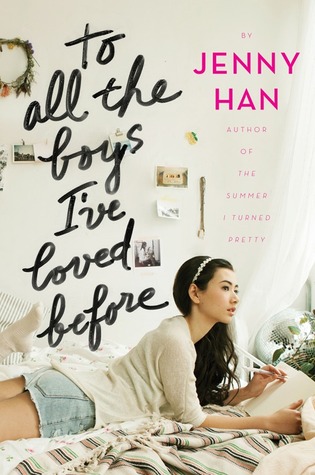 To All the Boys I've Loved Before is the story of Lara Jean, who has never openly admitted her crushes, but instead wrote each boy a letter about how she felt, sealed it, and hid it in a box under her bed. But one day Lara Jean discovers that somehow her secret box of letters has been mailed, causing all her crushes from her past to confront her about the letters: her first kiss, the boy from summer camp, even her sister's ex-boyfriend, Josh. As she learns to deal with her past loves face to face, Lara Jean discovers that something good may come out of these letters after all.
8. A Pound of Flesh
by Sophie Jackson
Orange Is the New Black meets Jennifer Probst's New York Times bestselling Marriage to a Billionaire trilogy, featuring a strong-minded prison tutor who discovers that her sexy bad-boy student is far more than he appears to be.
Haunted by nightmares of her father's street murder fifteen years ago, Kat Lane decides to face her fears and uphold his legacy of helping others by teaching inmates at a New York prison. There she meets arrogant Wesley Carter, who's as handsome as he is dangerous, as mysterious as he is quick-witted, and with a reputation that ensures people will keep their distance.
As teacher and student, Kat and Carter are forced to leave their animosities at the door and learn that one should never judge a book by its cover. As Carter's barriers begin to crumble, Kat realizes there's much more to her angry student than she thought, leaving them to face a new, perilous obstacle: their undeniable attraction to one another.
7. Wendy Darling: Seas
by Colleen Oakes
Wendy Darling: Seas finds Wendy and Michael aboard the dreaded Sudden Night, a dangerous behemoth sailed by the infamous Captain Hook and his bloodthirsty crew. In this exotic world of mermaids, spies, and pirate feuds, Wendy finds herself struggling to keep her family above the waves. Hunted by the twisted boy who once stole her heart and struggling to survive in the whimsical Neverland sea, returning home to London now seems like a distant dream—and the betrayals have just begun.
Will Wendy find shelter with Peter's greatest enemy, or is she a pawn in a much darker game—one that could forever alter not only her family's future but also the soul of Neverland itself?
6. I'm Judging You
by Luvvie Ajayi
Comedian, activist, and hugely popular culture blogger at AwesomelyLuvvie.com, Luvvie Ajayi, serves up necessary advice for the common senseless in this hilarious book of essays
With over 500,000 readers a month at her enormously popular blog, AwesomelyLuvvie.com, Luvvie Ajayi has become a go-to source for smart takes on pop culture. I'm Judging You is her debut book of humorous essays that dissects our cultural obsessions and calls out bad behavior in our increasingly digital, connected lives—from the cultural importance of the newest Shonda Rhimes television drama to serious discussions of race and media representation to what to do about your fool cousin sharing casket pictures from Grandma's wake on Facebook. With a lighthearted, rapier wit and a unique perspective, I'm Judging You is the handbook the world needs, doling out the hard truths and a road map for bringing some "act right" into our lives, social media, and popular culture.
5. The Summer of Chasing Mermaids
by Sarah Ockler
SOMETIMES, THERE ARE NO WORDS...
The youngest of six talented sisters, Elyse d'Abreau was destined for stardom - until a boating accident took everything from her. Now, the most beautiful singer in Tobago can't sing. She can't even speak.
Seeking quiet solitude, Elyse accepts a friend's invitation to Atargatis Cove. Named for the mythical first mermaid, the Oregon seaside town is everything Elyse's home in the Caribbean isn't: an ocean too cold for swimming, parties too tame for singing, and people too polite to pry - except for one.
Christian Kane is a notorious playboy - insolent, arrogant, and completely charming. He's also the only person in Atargatis Cove who doesn't treat Elyse like a glass statue. He challenges her to express herself, and he admires the way she treats his younger brother, Sebastian, who believes Elyse is the legendary mermaid come to life.
When Christian needs a first mate for the Cove's high-stakes Pirate Regatta, Elyse reluctantly stows her fear of the sea and climbs aboard. The ocean isn't the only thing making waves, though - swept up in Christian's seductive tide and entranced by the Cove's charms, Elyse begins to wonder if a life of solitude isn't what she needs. But changing course again means facing her past. It means finding her inner voice. And scariest of all, it means opening her heart to a boy who's best known for breaking them...
~oOoOoOo~
Sorry this list is so short, again. My family is coming by for the holidays, so I'm a little short on time. But I'd love to know some books you hope for Santa to leave on your Christmas tree in the comments below.
Hope you have a lovely and safe holiday!! ♥
Follow me on:
Thanks for reading! :) ♥