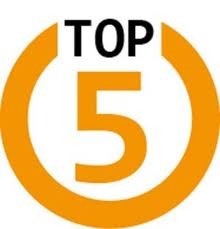 Hey guys! This is a new feature I joined from
Goodreads' Top 5 Wednesdays
, a weekly book group about our top five favorite things in the middle of the week.
Created by
Lainey from GingerReadsLainey
and now hosted by
Samantha from ThoughtsonTomes
, this week's entry describes the top five 2017 debuts I'm looking forward to.
Since I just did a topic like this in last week's
Top Ten Tuesday post
, I'll repost that entry here:
5. Caraval
by Stephanie Garber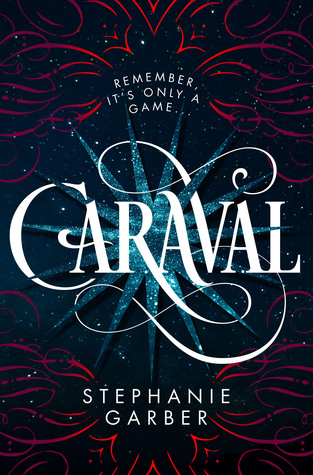 This reminds me of an upgraded version of The Hunger Games, but I like it!!
Synopsis:
Whatever you've heard about Caraval, it doesn't compare to the reality. It's more than just a game or a performance. It's the closest you'll ever find to magic in this world . . .
Welcome, welcome to Caraval—Stephanie Garber's sweeping tale of two sisters who escape their ruthless father when they enter the dangerous intrigue of a legendary game.
Scarlett has never left the tiny island where she and her beloved sister, Tella, live with their powerful, and cruel, father. Now Scarlett's father has arranged a marriage for her, and Scarlett thinks her dreams of seeing Caraval, the far-away, once-a-year performance where the audience participates in the show, are over.
But this year, Scarlett's long-dreamt of invitation finally arrives. With the help of a mysterious sailor, Tella whisks Scarlett away to the show. Only, as soon as they arrive, Tella is kidnapped by Caraval's mastermind organizer, Legend. It turns out that this season's Caraval revolves around Tella, and whoever finds her first is the winner.
Scarlett has been told that everything that happens during Caraval is only an elaborate performance. But she nevertheless becomes enmeshed in a game of love, heartbreak, and magic with the other players in the game. And whether Caraval is real or not, she must find Tella before the five nights of the game are over, a dangerous domino effect of consequences is set off, and her sister disappears forever.
4. Four Weeks, Five People
I haven't read a lot of books with mental illness,
but this book sounds interesting enough to break me in.
They're more than their problems
Obsessive-compulsive teen Clarissa wants to get better, if only so her mother will stop asking her if she's okay.
Andrew wants to overcome his eating disorder so he can get back to his band and their dreams of becoming famous.
Film aficionado Ben would rather live in the movies than in reality.
Gorgeous and overly confident Mason thinks everyone is an idiot.
And Stella just doesn't want to be back for her second summer of wilderness therapy.
As the five teens get to know one another and work to overcome the various disorders that have affected their lives, they find themselves forming bonds they never thought they would, discovering new truths about themselves and actually looking forward to the future.
This seems like a sweet and funny book to get into.
Estefania "Stef" Soto is itching to shake off the onion-and-cilantro embrace of Tia Perla, her family's taco truck. She wants nothing more than for her dad to get a normal job and for Tia Perla to be put out to pasture. It's no fun being known as the "Taco Queen" at school. But just when it looks like Stef is going to get exactly what she wants, and her family's livelihood is threatened, she will have to become the truck's unlikely champion.
2. The Education of Margot Sanchez
by Lilliam Rivera
This novel seems like a very emotional one, one that will take Margot, the main character, break out of those defense mechanisms she's built herself into.
Pretty in Pink comes to the South Bronx in this bold and romantic coming-of-age novel about dysfunctional families, good and bad choices, and finding the courage to question everything you ever thought you wanted—from debut author Lilliam Rivera.
THINGS/PEOPLE MARGOT HATES:
Mami, for destroying my social life
Papi, for allowing Junior to become a Neanderthal
Junior, for becoming a Neanderthal
This supermarket
Everyone else
After "borrowing" her father's credit card to finance a more stylish wardrobe, Margot
Sanchez suddenly finds herself grounded. And by grounded, she means working as an indentured servant in her family's struggling grocery store to pay off her debts.
With each order of deli meat she slices, Margot can feel her carefully cultivated prep school reputation slipping through her fingers, and she's willing to do anything to get out of this punishment. Lie, cheat, and maybe even steal…
Margot's invitation to the ultimate beach party is within reach and she has no intention of letting her family's drama or Moises—the admittedly good looking but outspoken boy from the neighborhood—keep her from her goal.
1. How to be a Bawse:
A Guide to Conquering Life
by Lilly Singh
There's no telling how f---ing excited I am for Lilly (aka IISuperwomanII) and her debut guide book to drop in March!! I hope it's as hilarious as her Youtube videos.
From actress, comedian, and YouTube sensation Lilly Singh (aka ||Superwoman||) comes the definitive guide to being a bawse—a person who exudes confidence, reaches goals, gets hurt efficiently, and smiles genuinely because they've fought through it all and made it out the other side. Told in her hilarious, bold voice that's inspired over nine million fans, and using stories from her own life to illustrate her message, Lilly proves that there are no shortcuts to success. WARNING: This book does not include hopeful thoughts, lucky charms, and cute quotes. That's because success, happiness, and everything else you want in life needs to be fought for—not wished for. In Lilly's world, there are no (I think a word is missing from Goodreads' page for this book. :/ )
So those are my most anticipated 2017 debuts coming out. I'd love to know your choices in the comments below.
Follow me on:
Thanks for reading! :) ♥