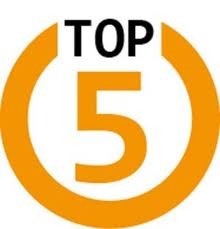 Hey guys! This is a new feature I joined from
Goodreads' Top 5 Wednesdays,
a weekly book group about our top five favorite things in the middle of the week.
Created by
Lainey from GingerReadsLainey
and now hosted by
Samantha from ThoughtsonTomes
, this week's entry describes the top five goals I'd like to work on this new year.
5. Traveling Around NJ/NYC Area
I've never been one to actually want to travel, even within my own area in which I live. I'm born and raised on New Jersey, where not a lot happens, at least not in the county I live in. Talking with my family and realizing the things they've done and the experiences they've had outside of the home, made me kinda want to just venture out with them and do something different. Even if it's just around my own little state, it's something fun to do.
4. Read and Review More Diversely
Since last year's first official
Diverse-A-Thon
, it's made me want to read more diversely, whether of authors of color, the LGBTQIA community, or disabilities. I have several different books in my TBR list this year, and I feel like it's only the beginning of my new venture.
Since I was about 10, I've only read one way: straight, white, and able-bodied. Hell, my first books that I'd gotten from my public library were the Baby-Sitters Club books! But as I've gotten older, I've realized those tropes of reading were stunting my growth as a human being. I want to challenge myself with more diverse reads so we can talk about them and educate ourselves.
3. Write More Reviews
I already do so much posting as it is, but I hardly do reviews anymore. School and work and laziness have taken over, and I think I'm ready to overcome all three to do some more reviews!
2. Gather More Subscribers
I usually don't care for subscribers like that, but since I started my new MailChimp service, I actually want to see more growth in my list. So far, I have 10 subscribers, and I'd like to reach 20 by year's end. I know that's not a lot, but it is for me. Baby steps!!
1. Finish my story, 'Life as I Know It'
For those who don't know, as well as a book blogger and contributor to different websites, I also dab in a little (ok, a lot!) of fanfiction--- particularly Twilight fanfiction with the alias Paralighter4ever, on Fanfiction.net. I've already had two completed multi-chapter stories, as well as a couple one-shots (single story entries). But as for my most recent fanfic, Life as I Know It, I have not been able to finish it. I'm only on chapter 26, and don't really have a format or outline for the rest of the story. I hope as this year goes on, that I can get out of this funk and write something good.
So those are my 2017 goals. I'd love to know yours in the comments below.
Follow me on:
Thanks for reading! :) ♥