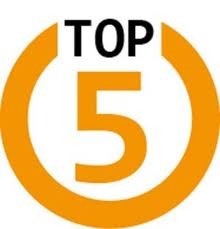 Hey guys! This is a new feature I joined from
Goodreads' Top 5 Wednesdays
, a weekly book group about our top five favorite things in the middle of the week.
Created by
Lainey from GingerReadsLainey
and now hosted by
Samantha from ThoughtsonTomes
, this week's entry describes the top 4 favorite science fiction and fantasy books for #BooktubeSFF Awards. I'm not a booktuber (a youtuber who makes videos about books/book community), but I do have my fair share of SFF faves below.
4. Cinder by Marissa Meyer
- I've only read half of the first Lunar Chronicles book, but I like it so far. I like the world of New Beijing, and how technological it is.
3. Anomaly by Tonya Kuper
- I can talk about this book all day, every day, and now that the sequel Enigma is coming out in July, I can chat about it even more! Josie is a badass, nerdy girl living as an Oculi, a supernatural being who can both Push and Retract things from their mind. Her man Reid, I think is an Oculi too, if I'm not mistaken. But in general, the book is fun, fierce, and I want to know more about their world in book 2.
2. City of Bones by Cassandra Clare -
Another epic fantasy series filled with Shadowhunters, witches, warlocks, magic, portals, different realms and more!
1. Santa Muerte by Lucina Stone -
I'm still reading this, and even though it's hella overwhelming and confusing, there's still a lot of Mexican folklore, mystery, suspense, ghost stories, witchcraft within the storyline. Also, it doesn't hurt that the main character Daniela is androgynous and explores within her own sexual fluidity within a new world, which I find quite fascinating.
So those are my top 4 favorite science fiction and fantasy books. I'd love to know your choices in the comments below.