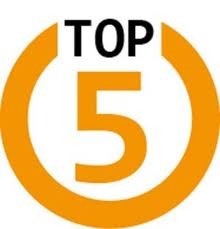 Hey guys! This is a new feature I joined from
Goodreads' Top 5 Wednesdays
, a weekly book group about our top five favorite things in the middle of the week.
April 26th: Authors You Want to Read More From
--Talk about some authors that you've only read one or a few books from, and you NEED to read more!
5. Inger Iversen - I received the best, cutest book swag from Inger a few days ago, about her Running in the Dark series, and it makes me want to check out more of her work!
4. Colleen Oakes -
I've only read the first
Wendy Darling
book, and I really liked it. I know Colleen has more books in her caliber, also an Alice in Wonderland retelling! I'd love to get to know her more as a writer.
3. Ingrid Seymour -
Another author I love but I've only read one book by. I read
Ignite the Shadows
in 2013 or 2014, and I remember really liking it. The sequel,
Eclipse the Flame,
came out in 2016, and I have yet to pick it up. Ingrid also has another trilogy,
One Wish Away,
and I have the first two books that I want to check out.
I stuck with three because I couldn't think of anyone else. :P


So those are the authors who I want to read more from. What are some of your choices? Let's discuss in the comments below!