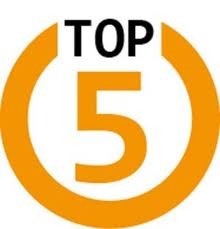 Hey guys! This is a new feature I joined from
Goodreads' Top 5 Wednesdays
, a weekly book group about our top five favorite things in the middle of the week.
April 5th: Top SFF Books on Your TBR *Booktube SFF Awards Babble Crossover Topic!*
--Talk about the science fiction and fantasy books you want to read ASAP!
5. One Wish Away (Djinn Empire #1) by Ingrid Seymour - This is more fantasy than science-fiction, but it's Ingrid, and I adore her work, so I'm excited to read this at some point.
Summary:
Faris is a Djinn with a secret and Marielle the first master to give him hope. Will she be the one to break his curse? There is no telling. All he really knows is she's ONE WISH AWAY from breaking his heart.
When Marielle was little, she used to believe Grandpa about his wish-granting Djinn. But now that she's older, her beliefs have changed, and things like lousy ex-boyfriends and alcoholic fathers have become her reality.
Life isn't done shattering her truths, though, and when Grandpa dies and the Djinn he warned her never to trust shows up at her doorstep, the world becomes a dangerous, magical place she never knew existed. Reeling for her once-normal life, Marielle soon realizes there's no going back—not when she's become part of a mortal conflict between two spell-bound Djinn. Faris—her handsome slave. And Zet—his vengeance-hungry brother. They both want something from her. One, her love. The other one, her life.
Now she's afraid she will die in love.
4. Shadow and Bone (The Grisha #1) by Leigh Bardugo - This world sounds so intricate and so much is going on, but I still want to at least try it lol.
Summary:
Surrounded by enemies, the once-great nation of Ravka has been torn in two by the Shadow Fold, a swath of near impenetrable darkness crawling with monsters who feast on human flesh. Now its fate may rest on the shoulders of one lonely refugee.
Alina Starkov has never been good at anything. But when her regiment is attacked on the Fold and her best friend is brutally injured, Alina reveals a dormant power that saves his life—a power that could be the key to setting her war-ravaged country free. Wrenched from everything she knows, Alina is whisked away to the royal court to be trained as a member of the Grisha, the magical elite led by the mysterious Darkling.
Yet nothing in this lavish world is what it seems. With darkness looming and an entire kingdom depending on her untamed power, Alina will have to confront the secrets of the Grisha . . . and the secrets of her heart.
Shadow and Bone is the first installment in Leigh Bardugo's Grisha Trilogy.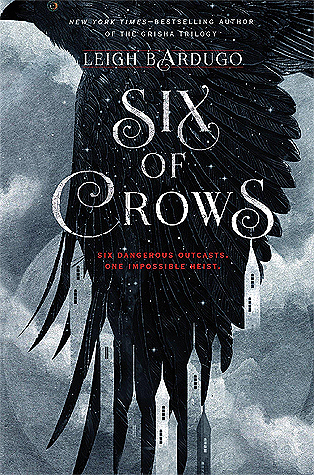 3. Six of Crows by Leigh Bardugo - Basically the same reason as #4 lol.
Summary:
Criminal prodigy Kaz Brekker has been offered wealth beyond his wildest dreams. But to claim it, he'll have to pull off a seemingly impossible heist:
Break into the notorious Ice Court
(a military stronghold that has never been breached)
Retrieve a hostage
(who could unleash magical havoc on the world)
Survive long enough to collect his reward
(and spend it)
Kaz needs a crew desperate enough to take on this suicide mission and dangerous enough to get the job done - and he knows exactly who: six of the deadliest outcasts the city has to offer. Together, they just might be unstoppable - if they don't kill each other first.
2. An Ember in the Ashes by Sabaa Tahir - I've heard so many things about this book --- good, bad, fangirling and all --- and I really want to read it!!
Summary:
Laia is a slave. Elias is a soldier. Neither is free.

Under the Martial Empire, defiance is met with death. Those who do not vow their blood and bodies to the Emperor risk the execution of their loved ones and the destruction of all they hold dear.

It is in this brutal world, inspired by ancient Rome, that Laia lives with her grandparents and older brother. The family ekes out an existence in the Empire's impoverished backstreets. They do not challenge the Empire. They've seen what happens to those who do.

But when Laia's brother is arrested for treason, Laia is forced to make a decision. In exchange for help from rebels who promise to rescue her brother, she will risk her life to spy for them from within the Empire's greatest military academy.

There, Laia meets Elias, the school's finest soldier—and secretly, its most unwilling. Elias wants only to be free of the tyranny he's being trained to enforce. He and Laia will soon realize that their destinies are intertwined—and that their choices will change the fate of the Empire itself.
1. Enigma by Tonya Kuper - Y'all don't know how goshdarn excited I am for this book to pop out July 4!!!! This is the second book in Tonya's Schrodinger's Consortium series, and I can't wait to see what Josie and Reid are up to next, now that Josie is still learning to use her Oculi powers.
Summary:
The highly anticipated sequel to Anomaly will be released the summer of 2017!
Worst. Road Trip. Ever.
Escaping with Reid Wentworth should have been fun, but how can I enjoy it when I just (accidentally) killed someone, my mom and brother are in danger, and the Consortium is trying to enslave humanity? (Yeah, they aren't fooling around.) So feeling something for Reid Wentworth was not part of the plan. Trying to help unite the Resistance against the Consortium means I can't be distracted by hot boys.
The Resistance secret hideout isn't exactly the rebel base of my dreams. A traitor there wants me dead, but we have no idea who it is. And with both the Resistance and the Consortium trying to control me, the only one I can trust is Reid. If we're going to have any chance of protecting my family, controlling my unstable powers, and surviving the clash between the Oculi factions, I'm going to have to catch this traitor. By using myself as bait.
____________________
So those are my SFF TBR additions for #BooktubeSFF Awards. What are some of your own choices? Leave them in the comments below.
Click to share on Twitter!