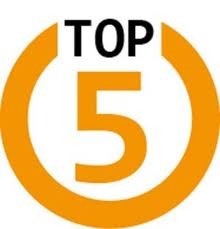 Hey guys! This is a new feature I joined from
Goodreads' Top 5 Wednesdays
, a weekly book group about our top five favorite things in the middle of the week.
Another covers post, right behind my latest TOP TEN TUESDAY post! But these are more based on Sci-Fi/Fantasy books:
5. Anomaly by Tonya Kuper - Like I said in my TTT post, this cover is so bold, daring, sizzling, dramatic and I love it!!
4. Insurgent by Veronica Roth
3. Harry Potter and the Order of the Phoenix by J.K. Rowling
2. The Twilight Saga: Breaking Dawn by Stephenie Meyer
1. Hush, Hush by Becca Fitzpatrick
So those are my favorite book covers for the Booktube SFF Awards. I'd love to know your choices in the comments below!