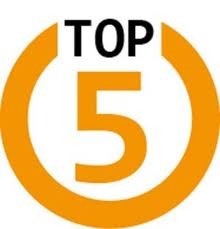 Hey guys! This is a new feature I joined from
Goodreads' Top 5 Wednesdays
, a weekly book group about our top five favorite things in the middle of the week.
May 17th: Summer Reads
--The weather is heating up (for half of the world), so what books remind you of summer and are your quintessential summer reads?
4. Discovering April by Sheena Hutchinson - It's so sweet, so cute, April and Jared are adorable, and the book is a fast, dramatic read!
3. Books, Blogs and Reality by Ryan Ringbloom - Another, cheery, funny, fast read. It splits into 4 female points of view, but it's still a good read for the summer.


2. The Sisterhood of the Traveling Pants by Ann Brashares - The classic, summery, fun story about friendship, love, family, tradition, and a magical pair of pants!
1. The Princess Diaries by Meg Cabot - I don't remember reading this in the summer, but the story itself is just so fluffy and easy to get through. It's not exactly as happy as the movie version, but it's still a good summer read.
I only did four because I couldn't think of any more. Time for me to start reading more!